Facts - Vinschgau Valley Bike Path
| | |
| --- | --- |
| Length: | ca. 86 km (Reschen to Meran) |
| Altitude: | ca. 1200 m (Reschenpass: 1.500 hm, Meran: 320 hm) |
| Duration: | ca. 4-5 hours |
| Difficulty: | medium |
| Recommended time: | March to October |
| Ideal for road bike: | in parts |
Directions
Start at the Reschen Pass
The starting point of this bike tour is Reschen, which is at the northern tip of the beautiful Reschensee lake. This lake is one of the most important reservoirs in the Vinschgau Valley, as it was created after the end of the Second World War. Before Lake Reschen was built as a reservoir, the small village of Graun was located in this valley. To this day, the church tower rises out of Lake Reschen and many tourists take advantage of the ride on the Vinschgau to Merano cycle path to experience this tourist attraction. The Vinschgau to Merano cycle path continues along the left side of Lake Reschen, where bikers can enjoy the gigantic view of the mountain Ortler. Ortler is the highest mountain in Tyrol.
The trail continues towards the spa town of Merano to Burgeis. It winds idyllically along the right bank of Lake Haider and offers cyclists magnificent views of Lake Haider and the Vinschgau Valley. A special spectacle is offered at this point on the way to Merano by the Adige-Etsch River, which flows through Lake Haider here and plunges steeply over rock formations into the valley.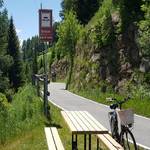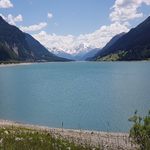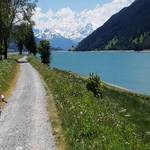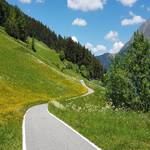 ---
Mals/Malles - Glurns/Glorenza - Prad/Prato allo Stelvio
Am Bahnhof von Mals führt der Radweg nach Laatsch und der Etsch entlang zur kleinsten Stadt Südtirols: die mittelalterliche Stadt Glurns mit vollständig erhaltenen Stadtmauern. Der Radweg führt an der Etsch weiter in Richtung Prader Fischerteiche, auf gemütlicher Strecke vorbei an ein Staubecken durch Krautwiesen und einem schattigen Waldstück. Angekommen an den Fischerteichen in Prad (Einkehrtipp!) wird die "Prader Sand" durchquert. Dabei handelt es sich um ein Biotop: Trockenau und Flussdelta des Suldenbachs. Dementsprechend gibt es dort keinen Asphalt, sondern Schotterbelag. Passionierte Rennradler können vor den Fischerteichen in Prad über die Industriezone ausweichen und auf der Straße Richtung östlichen Dorfausgang radeln.
Am Dorfausgang von Prad am Stilfserjoch angekommen verläuft der Radweg auf einem asphaltierten Wiesenweg nach Tschengls. Radfahrer müssen den Abschnitt Prad-Tschengls lediglich mit einigen wenigen Autos und landwirtschaftlichen Fahrzeugen teilen.
Einkehrtipp: Gasthof Grüner Baum mitten in Glurns.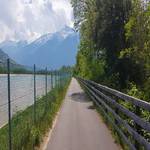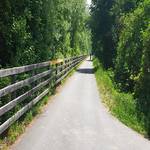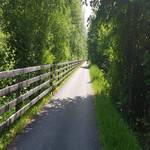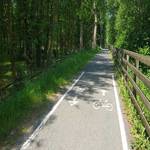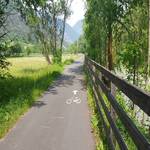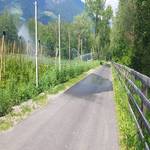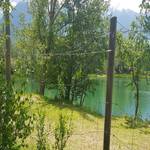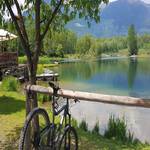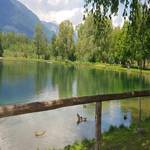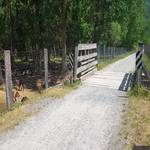 ---
Tschengls - Laas/Lasa - Göflan/Covelano
In Richtung Tschengls steigt der Radweg leicht an und biegt, unterhalb des Dorfs mit der Tschenglsburg, auf einen Auweg (Schotter) mit schattigen Wald ab. Rennradfahrer können hier wieder ausweichen und nehmen den Weg durch das Dorf Tschengls.
Der Anstieg wird mit einer kurzen Abfahrt nach Eyrs belohnt. An der Brücke angekommen, verläuft der Radweg geradeaus an der Etsch entlang ins Marmordorf Laas. Der Laaser Marmor ist weltweit wegen seiner einzigartigen Reinheit bekannt. Nach der Durchfahrt von Laas geht es in Richtung Wald und es folgt wieder ein Schotterteilstück. Nach einem kurzen Anstieg führt der Vinschger Radweg bergab nach Göflan. Die Gefahr zu stürzen ist auf Schotter hoch, deshalb ist eine angemessene Geschwindigkeit bergab zu empfehlen. Im Abschnitt Laas-Göflan befindet sich der Kortscher Fischerteich mit dem Radtreff Brugg (Einkehrtipp!). Der Radweg führt wieder auf Asphalt am Göflaner Spielplatz vorbei in Richtung Dorfzentrum, weiter auf einem asphaltierten Feldweg durch Apfelwiesen nach Goldrain.
Einkehrtipp: Radtreff Brugg am Fischteich.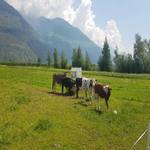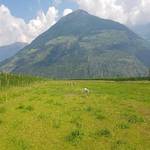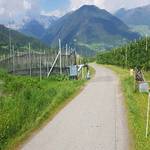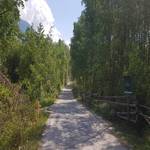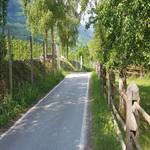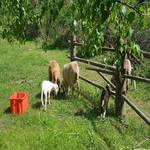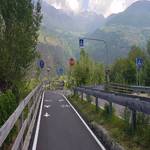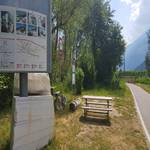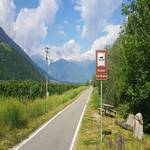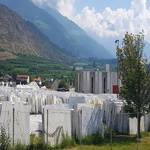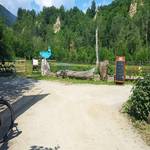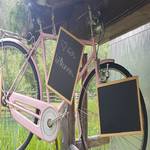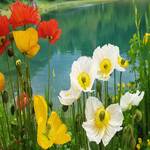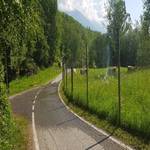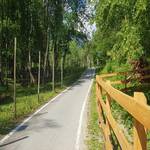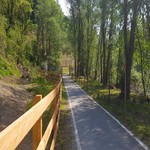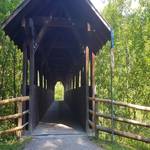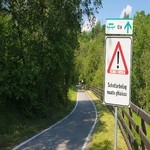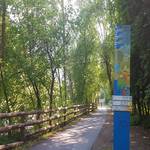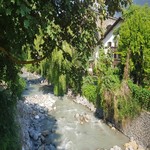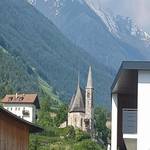 ---
cyclepath_vinschgau.headline_goldrain_naturns
cyclepath_vinschgau.content_glurns_goldrain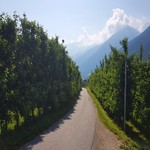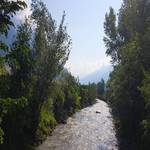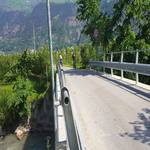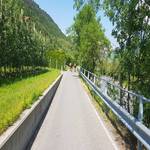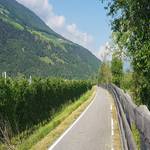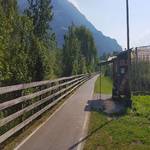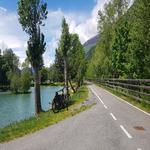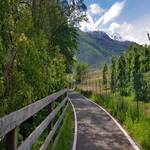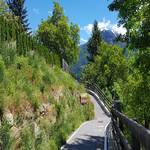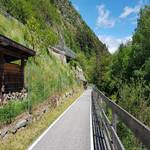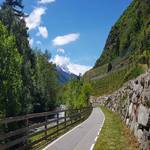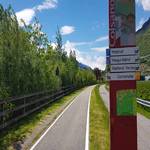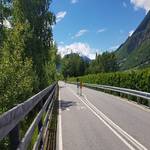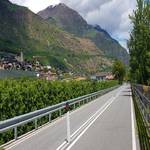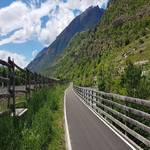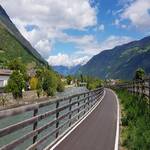 ---
The cycle path continues through the beautiful landscapes of the Vinschgau Valley through a wide valley to the medieval town of Glurns. The town towers and the accessible town wall are definitely worth seeing in Glurns.
The tour continues through the Vinschgau Valley past numerous apple orchards to Merano. The 80-kilometre journey of discovery through the Vinschgau Valley ends here. The cycle path from Mals to Merano has a new course. In May 2011, the cycle path section between Silandro - Goldrain was completed and ceremoniously opened. Bikers no longer have to take the route from Silandro via Morter, but can continue cycling from Silandro on a flat stretch to Goldrain. From Goldrain the route continues to Latsch, where several restaurants invite you to take a break. The route continues through the centre of Laces to the entrance to the village in the east, where the cycle path follows the course of the Adige river again and so it goes leisurely past Castelbello-Kastelbell Castle, through orchards to Tschars, on to Staben with Juval Castle and to the popular holiday resort of Naturno-Naturns. From Naturno, the cycle path leads - always along the Adige River - to Plaus, Rabland and to Töll, the beginning of the Merano valley basin.
Ratings
★
★
★
★
☆
Vinschgau Valley Cycle Route: 4,36 / 5,00 of 58 ratings.
---
Cycle map - Vinschgau Valley
---