Merano region: mountain scenery and beautiful landscapes
A region where you can be active and diversify your day. Leave the daily grind behind and do something good for yourself and your body.
In beautiful South Tyrol, in the middle of the Alps, lies the holiday region of Merano. About 250 kilometres from Munich and 270 kilometres from Zurich, you will find Meran-Merano with inviting suburbs such as Naturns-Naturno, Partschins-Parcines and Algund-Lagundo. Mediterranean flair and many leisure activities await you here.
Merano is 300 m above sea level, offers very mild, pleasant temperatures and stands out as a paradise for guests interested in sports. Unlike in other regions of South Tyrol, the biking season begins in mid-February and lasts until mid-November. In the Merano and Vinschgau regions you will find numerous, extensive easy-going cycling tours as well as challenging roadbike tours and mountain bike trails for professionals.
Hotel recommendations
Cycling tours in South Tyrol
MTB tours
The number of MTB trails and the ongoing bike season make Merano a MTB paradise.
Open MTB tours
Roadbike tours
Numerous mountain passes attract road cyclists to South Tyrol. The most beautiful Alpine passes provide endless metres of altitude.
Open Road Bike Tours
Enjoyment tours
More moderate cyclists enjoy the fantastically beautiful landscape in South Tyrol on leisurely bike tours.
Open tours
Bike routes
Vinschgau-Val Venosta: Reschen to Merano
One of the most beautiful and diversified bike paths in the Alpine region.
read more
Etschtal: Merano to Bolzano
The Apple Cycle Path through the Etschtal-Adige Valley connects the cities of Merano and Bolzano with almost no incline.
read more
home.cyclepaths.passeiertal.headline: home.cyclepaths.passeiertal.headline_3
home.cyclepaths.passeiertal.intro
home.cyclepaths.passeiertal.cta
---
Mobility & Transport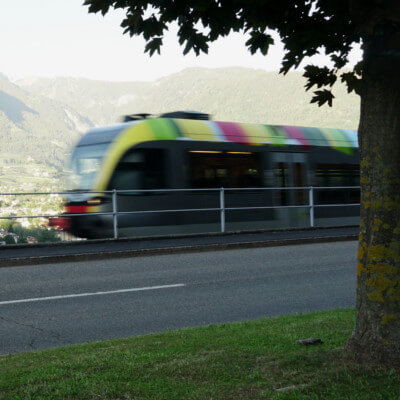 A holiday without a car in South Tyrol is easily possible. Local public transport is provided by intercity and city bus, railway, cable cars and shuttle services.
---