E-biking in South Tyrol
Cycling with the extra portion of energy: comfortable and enjoyable
Biking with support: an e-bike is usually referred to as a pedelec, (Pedal Electric Cycle). Sensors detect the pressure on the pedal through the pedalling movement and a powerful electric motor facilitates the pedalling in an ideally dosed manner. On an electric bike you can explore South Tyrol at up to 25km/h without overexerting yourself.
Thanks to a well-developed infrastructure, you will always reach your destination on your e-bike. On our tour overview you will find numerous suggestions for your next cycling tour in the surroundings of Merano.
E-bike charging stations in the Merano and Vinschgau regions
When planning longer bike tours with the e-bike, it is advisable to find out about charging options. It is best for e-bikers to enquire in advance with the operator of the respective charging station, as some charging stations are only accessible to hotel guests and the respective opening hours and possible costs must also be taken into account. The following list shows some charging points for e-bikes in South Tyrol. It is a selection and the information is without guarantee.
Algund: Kirchplatz and Hans-Gamper-Platz 3, Phone: +39 0473 448600, info@algund.com (Algund Tourist Office)
Lana: Tribus Platz, Phone: +39 0473 561 770
Marling: Traubenwirt's Park, Phone: +39 0473 447 147
Mölten: Möltner Kaser, Phone: +39 349 129 0780
Naturns / Staben: Radbar, Suada Giorgina: +39 333 749 2239, schatzerandy@gmail.com
Partschins: Hotel Botango, +39 0473 967 157
Partschins (Quadrat): Gasthaus Brünnl and Gasthaus Unterobereben, +39 0473 967 157
Reschen / Graun: Hotel Edelweiss, Phone: +39 0473 633142, info@edelweiss-reschen.it
Saltaus im Passeiertal: Hotel Hirzer, Phone: +39 0473 645428, info@hotelhirzer.com
Schenna: Gompm Alm, Phone: +39 0473 949544, info@gompmalm.it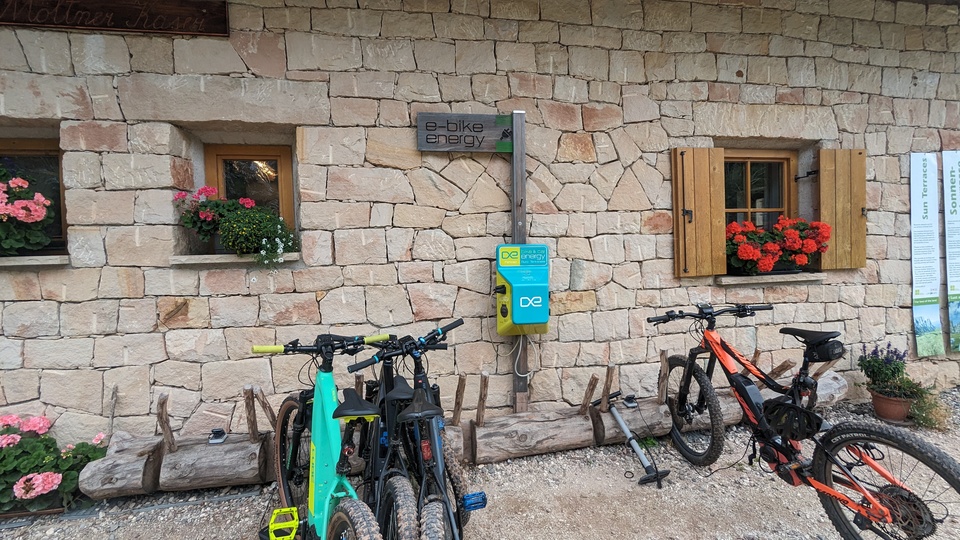 The advantages of an electric bike compared to a conventional bike are obvious:
less strenuous
further distances possible
uphills are easier to cope with
quality and intensity of the training is optimised through ideal constant force application
avoidance of muscle, ligament and joint injuries due to overuse
What are the disadvantages of e-bikes?
battery must be charged in advance
according to experience, the range for a pedelec is between 50-100km.
battery life is also limited and expensive to purchase
much heavier than normal bicycles due to batteries
the centre of gravity is slightly offset, it requires an adjustment phase
Most of the disadvantages can be easily circumvented by the numerous rental offers and thus nothing stands in the way of a successful e-bike tour.
Hotel recommendations
Cycling tours in South Tyrol
MTB tours
The number of MTB trails and the ongoing bike season make Merano a MTB paradise.
Open MTB tours
Roadbike tours
Numerous mountain passes attract road cyclists to South Tyrol. The most beautiful Alpine passes provide endless metres of altitude.
Open Road Bike Tours
Enjoyment tours
More moderate cyclists enjoy the fantastically beautiful landscape in South Tyrol on leisurely bike tours.
Open tours
Bike routes
Vinschgau-Val Venosta: Reschen to Merano
One of the most beautiful and diversified bike paths in the Alpine region.
read more
Etschtal: Merano to Bolzano
The Apple Cycle Path through the Etschtal-Adige Valley connects the cities of Merano and Bolzano with almost no incline.
read more